This guide is meant to help you guys that had hard time setting up you PDA network printer. It's not a tough job but if you had difficulty using the original HP guide try my. I'm going to do it as usual a lot of screen captures and few words. Let me describe what have I used for my lab tests.
Hardware details are: Pocket PC (HP 2210), PC (Intel 533) and Printer (HP LaserJet 1200).
Hardware configuration: Printer is attached to the PC by Parallel cable and installed with the lattes HP drivers (PCL6). Bluetooth PAN Network connects my PDA and my PC using Conceptronic's USB Bluetooth adapter (C100U).
Network configuration: PC IP Address: 10.0.0.1/8 PDA IP Address: 10.0.0.2/8
Software configuration: Windows XP SP2 with Firewall. "File and Printer Sharing for Microsoft Networks" protocol is installed and enabled. NetBIOS over TCP/IP is enabled too. My ports 137, 138 UDP and 139, 445 TCP are open for my Subnet. Printer shred name is (printer).
Network printing (in my case Bluetooth network) requires additional software. For Pocket PC HP has developed the "Printing Mobile". Now download and install the software then in the Programs you will see the new icon start the application and continue with the Tutorial.
*Don't forget that TCP/IP Network has the same rules whatever it is a Wi-Fi or a Bluetooth. What is important is to see the Network Configuration and abstract form the fact it is over Bluetooth layer.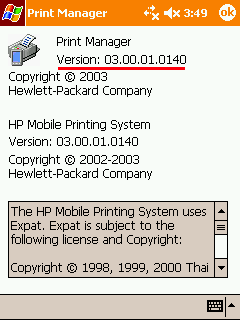 Download your copy at:
www.hp.com/go/mobileprinting